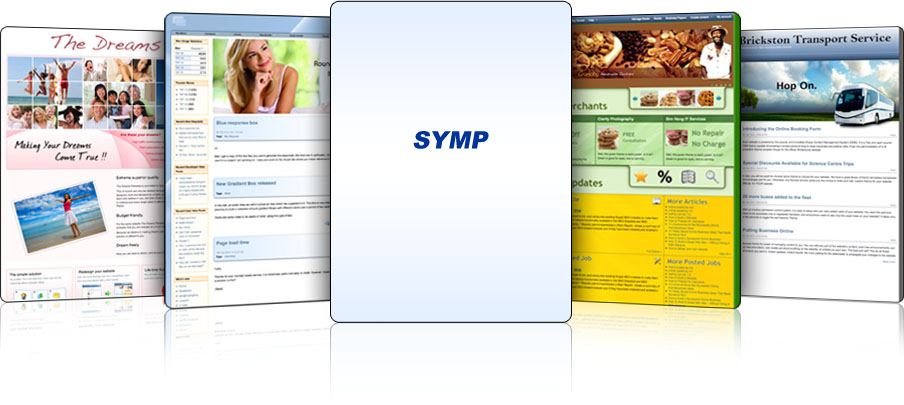 It's really Symple.

Everything from start to putting the website live on the Internet is happening all right here at with Symple solutions. You get a completely integrated solution that works right out of the box, and is secure, stable, powerful and easy to use.

 

The engine

Each website is powered by the popular and incredible Drupal Content Management System (CMS). It is a free and open-source CMS that is capable of powering a simple personal blog to large corporate and political sites. Even the administration of U.S. president Obama adopted Drupal for the official Whitehouse website.

 

... and the team.

Dedicated, impressive, and friendly. The Symp team gives you nothing short of awesome. By fueling our passion into your website, you get a superb website that is user friendly, search engine friendly, and extremely elegant.

 
Content Management

Symple hands the power of managing content to you. You can edit any part of the website's content, post new announcements, put up new promotions, and create just about anything on the website, all entirely on your own. The best part yet? You do all these whenever you want it. Instant updates, instant results. No more waiting for the webmaster to propagate your changes to the website.

 

Backup Solution

Symp ends your worries with data loss with SympCare - a personal and comprehensive web maintenance solution that includes regular backup of your data.

 

Web Hosting

With every Symple solution, SympHost provides you a web hosting solution that puts your website live in an enterprise grade Cloud environment, together with a high uptime record that promises your website is reachable by your users always.

 

Stable

The engine is open-source, with a strong and dedicated community that actively collaborates to bring the best for its users. Symp websites are built upon this rock solid foundation and in turn, we give you a peace of mind when you use a Symple solution.

 

Scalable

All Symple solutions are able to build just about any website - from a simple blog to large coporate sites. That is because inside the core of the engine, a pluggable system exists, and this allows many useful and fantastic plugins to be plugged into the system to increase the functionalities of your website.

 

High Performance

Your dynamic website will be driven by a high performance database server. Coupled with the engine's own high geared code, you get the kind of performance every website owner lusts for.

 

Skinnable

In fact, you will be spoilt for choices which theme to choose for your website. We have a great library of theme templates handpicked and arranged just for you. Otherwise, any Symple solution gives you the choice to build your own custom theme for your website. Afterall, it's YOUR website.

 

User Permissions

With an intuitive permission control system, it is easy to setup who can view certain parts of your website. You want the premium news to be accessible only to registered members, and anonymous users to see only the usual news on your website? It takes only a few seconds to toggle the permissions. Period.
Support

SympCare Protection Plan gives you the ultimate peace of mind when it comes to total customer support. Think efficient and satisfaction.
 

Learn

A Symple website is extremely easy to manage. Even then, Symp continues to expand our library of tutorials and videos to help you get started fast.
 

Migrate

If you would like to migrate your existing website over, a Symple expert will be assigned to ease your migration of data and domain name.
Clients include
Bliss Hotel is a boutique hotel website with a bridged room booking system, on top of showcasing its room facilities and many pictures of its rooms. A simple and informative style that aligns with the client's visions, Symp listens.

TuitionSuperMart is a tuition portal that automatically matches potential registered tutors to tutees, by considering the time availabilities, subjects to teach, geographical locations, and other attributes; keyed in by both parties.

SalesAdvisorAsia is a premium content based website that sells one-time subscription and monthly subscriptions to international customers. Payments are collected through Paypal. Additionally, premium content follows a release schedule, so that the subscriber sees a new piece of content a pre-determined number of days after the current.

JobsAceDirect showcases a job matching system - that automatically matches resumes of potential job seekers to job advertisements posted by employers. Successful matching triggers automatic notifications to both the employer and the selected job seeker. Employers need to purchase credits for posting of job advertisement and other transactions.

DeveloperDirect is a real estate property portal that links to many properties under its umbrella. Its potential audience can register his interest in any of its properties, and an agent will respond promptly.

Brickston Transport Service is one of the most well-known bus caterer, and one of the largest private bus company in Singapore. Its website showcases an Online Booking capability that allows the public to quickly secure a bus for any occasion and event.